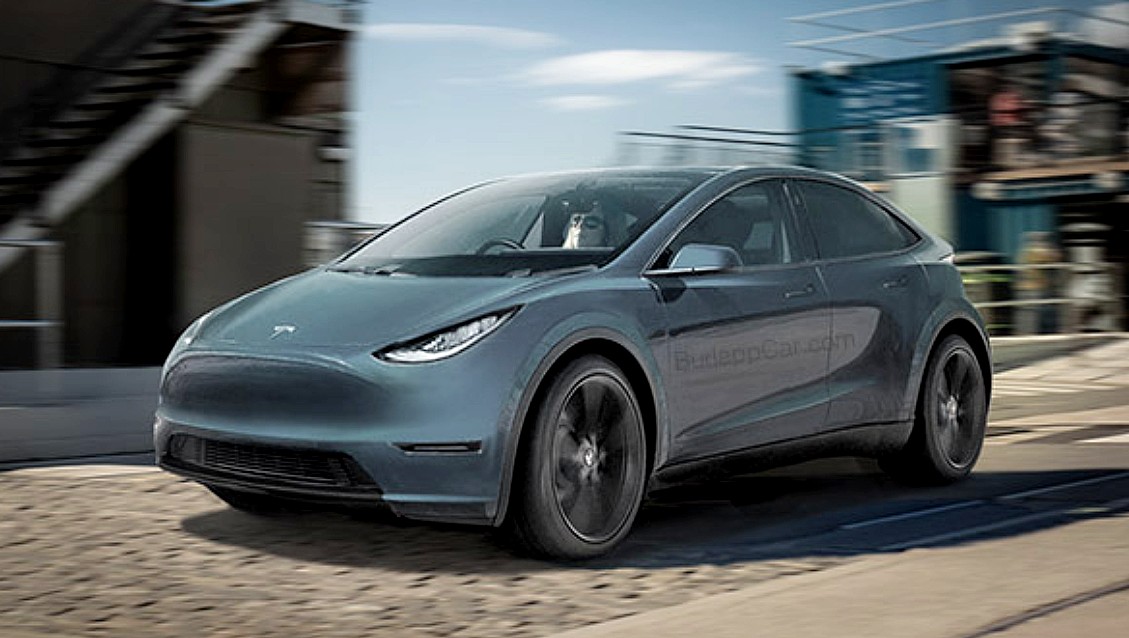 This is possible picture of the 25 thousand dollar Tesla for future 2025 maybe. Tesla's Battery Day on Tuesday was a showcase of things to come—most important, cheaper things to come. CEO Elon Musk's electric car company presented innovations that it says will let it create, within three years, a competitive electric car that costs just $25,000. Investors did not love the long-term promise, and Musk has failed to meet his promises often enough to justify skepticism. So you may be waiting longer than three years for a truly low-budget Tesla. Nahh He delivers it is what he does.
Tesla Inc NASDAQ: TSLA
Tesla The Only Automaker Seeing Sales Growth In Germany This Year: Report
11:18 pm ET October 5, 2020
(Benzinga)
Print
Tesla Inc (NASDAQ: TSLA) is the only automaker in Germany experiencing growth so far this year, Electrek reported Monday.What Happened: The Elon Musk-led company is charting ahead of its domestic and foreign rivals in the European country.In the period after Sept. 2019, the Palo Alto, California-based automaker registered 9,000 deliveries, an increase of 24% year-over-year.Data from Electrek indicates that every other automaker in Germany had deliveries shrink in a similar period including giants like Toyota Motor Corporation (NYSE: TM), Bayerische Motoren Werke AG (OTC: BMWYY), and Volkswagen AG(OTC: VWAGY).The electric vehicle maker enjoyed a record quarter in Germany with 6,114 deliveries, bringing the total for the year to 11,217 vehicles.Why It Matters: The rise in deliveries comes even as the Germany supply was affected in the second quarter due to the company's Fremont factory shut down.The German market is reportedly a tough nut to crack as consumers like to purchase domestic vehicles, but Tesla's rapidly-progressing Berlin manufacturing facility has sparked interest in the European nation.Peter Altmaier, German economy minister, pitched the country's total support to Musk in getting the Gigafactory up and running when the latter visited Germany last month.The picture is different in China, another important market for Tesla, where local rivals such as Li Auto Inc (NASDAQ: LI) and Nio Inc (NYSE: NIO) are witnessing robust growth.Morgan Stanley analyst Adam Jonas said last week that the U.S. automaker faces a total wipeout in China by 2030, as sales may fall to zero there.Price Action: Tesla shares closed 2.55% higher at $425.88 on Monday and traded 0.82% lower in the after-hours session.
Tesla's new Model 3 pricing in China is driving local competitors into a corner
Chinese political leadership is supporting Tesla primarily because they want to repeat their highly successful "Apple Effect" strategy: iPhone production got mostly insourced to China, and a huge Chinese supply chain is now competing globally in the highest classes. If a supplier is good for Apple, it's good enough for anyone, right?
Chinese leadership doesn't care that Apple is dominant and rakes in most of the smartphone profits. iPhones are hugely popular in China, and local smartphone makers are struggling to compete with Apple, yet obviously China didn't "take away" Apple's factories, even though technically they could – because doing so would undermine their decades long strategy to elevate China's economy.
With Tesla they are following a similar strategy, with an order of magnitude bigger economic significance:
🚗: China could become the new center of the global automotive/EV industry,

🛢: China could also eliminate China's biggest growth constraint and geopolitical & military vulnerability: crude oil supply.

🌳: improving the air quality of Chinese cities – one of the worst in the world – is the cherry 🍒 on the cake.
Tesla is the perfect catalyst for them, and will be for the next 10 years, at least as long as the EV transition & global disruption runs its course.
Proponents of arguments that Tesla will suddenly fall out of favor are confused about how important the EV revolution is to China strategically – and how China has chosen Tesla to showcase that strategy.
Tesla is strategically important to both the United States & China for different reasons. That's a HUGE and powerful moat
Chancellor Merkel Praises Tesla Giga Berlin Project: 'You Can Get Things Done In An Incredibly Short Time' | Tesmanian
Germany: Tesla grows 24% YoY while every other brand tanks
LOL Does this Chart just show everything you need to even know, lol
Do Options Traders Know Something About Tesla (TSLA) Stock We Don't?
7:42 am ET October 7, 2020 (Zacks) Print
Investors in Tesla, Inc. TSLA need to pay close attention to the stock based on moves in the options market lately. That is because the Oct 23, 2020 $800 Call had some of the highest implied volatility of all equity options today.
What is Implied Volatility?
Implied volatility shows how much movement the market is expecting in the future. Options with high levels of implied volatility suggest that investors in the underlying stocks are expecting a big move in one direction or the other. It could also mean there is an event coming up soon that may cause a big rally or a huge sell-off. However, implied volatility is only one piece of the puzzle when putting together an options trading strategy.
What do the Analysts Think?
Clearly, options traders are pricing in a big move for Tesla shares, but what is the fundamental picture for the company? Currently, Tesla is a Zacks Rank #3 (Hold) in the Automotive – Domestic industry that ranks in the Top 34% of our Zacks Industry Rank. Over the last 60 days, six analysts have increased their earnings estimates for the current quarter, while two have dropped their estimates. The net effect has taken our Zacks Consensus Estimate for the current quarter from 45 cents per shareto 50 cents in that period.
Given the way analysts feel about Tesla right now, this huge implied volatility could mean there's a trade developing. Oftentimes, options traders look for options with high levels of implied volatility to sell premium. This is a strategy many seasoned traders use because it captures decay. At expiration, the hope for these traders is that the underlying stock does not move as much as originally expected.
Looking to Trade Options?
Check out the simple yet high-powered approach that Zacks Executive VP Kevin Matras has used to close recent double and triple-digit winners. In addition to impressive profit potential, these trades can actually reduce your risk.
5:35 am ET October 7, 2020 (Benzinga) Print
Tesla Inc. (NASDAQ: TSLA) is a disruptive company that goes beyond simply making cars and people continue to "misunderstand" and "underestimate" this business, according to Social Capital CEO Chamath Palihapitiya.Speaking on CNBC's "Squawk Box" program, the "SPAC king" said Tesla's primary value is about "deregulating energy," and the company will give individuals "the ability to be energy independent" in the near future, with batteries and battery storage in focus.Disruption Of Utilities Not Far Away: A lot of commentators were left unamused by Tesla's battery day event last month — but according to Palihapitiya, it was anything but a "dud event.""What they showed was a legitimate path…not just for car businesses and for selling cars but frankly for individuals and the disruption of utilities is now I think within two to three years away," the former Facebook Inc. (NASDAQ: FB) vice president told CNBC.The updates Tesla gave on battery developments were really "meaningful," according to Palihapitiya, who has played a key role in driving the recent popularity of special purpose acquisition companies."The innovations in the cathode, the innovations at the anode, the innovations in the packaging of batteries…what I can tell you is it was a meaningful leap and innovation these guys presented."Increased Competition No Concern For Tesla: Palihapithiya said traditional automakers crowding the electric vehicle space is not something that would concern Tesla."I think the people that are trying to compete with them are not the people that they are competing with," he said in the CNBC interview, adding that the EV maker remains "misvalued."Palihapitiya noted that people have been speculating about automaker giants overtaking Tesla for years but few of their electric offerings have found success in the market. Audi AG's (OTC: AUDVF) e-tron, the Jaguar F-Pace, and the line of electric vehicles from the Ford Motor Company (NYSE: F) and Chrysler have all been "duds.""The reality is these guys are shipping more and more cars every quarter," Palihapitiya told CNBC, referring to Tesla. "There is more and more consumer demand, and they have a simplified platform that allows them to scale up at better unit margins than anyone else in the auto industry."The Elon Musk-led company is going to keep its focus on "energy deregulation" and become one of the most valuable companies in the world in the process, if Palihapitiya is to be believed.

Why It Matters: In an earlier interview with BlockFi's Zac Prince, Palihapitiya expressed a belief that Tesla is set to reach the scale of Apple Inc. (NASDAQ: AAPL) and probably cross Amazon.com Inc. (NASDAQ: AMZN) in valuation.

Speaking at the September Benzinga Boot Camp, the venture capitalist said he learned a process called "First Principles" from Musk, which involved continuously asking the question "why," and unpacking and fixing the problem.

Tesla reported a strong 43.6% year-over-year growth in deliveries for the third quarter globally, earlier this month. In Germany, it's the only automaker to actually see a year-over-year rise in deliveries in 2020 as of September-end, according to the data compiled by Electrek.

Price Action: Tesla shares traded 0.68% higher at $416.80 in the pre-market session Wednesday.

© 2020 Benzinga.com. Benzinga does not provide investment advice. All rights reserved.
Price

$428.28

Day's Change

Bid

Ask

B/A Size

100×100

Day's High

429.90

Day's Low

413.85

Volume

35,319,890
Tesla shares are trading higher following a report suggesting Elon Musk sent an email to employees saying 'would be exciting if we can exceed' 500,000 annual production in 2020.
Tesla Shares Moved Higher On Earlier Report CEO Musk, In Mail To Employees, Said 'Would Be Exciting' To Exceed 500K Annual Production In 2020. BZ NOTE: On April 29, Co Gave Guidance Of Deliveries Exceeding 500K For The Year
12:36 pm ET October 7, 2020 (Benzinga) Print
11:47 am ET

*Tesla shares are trading higher after New Street upgraded the company's stock from Neutral to Buy and announced a $578 price target.

Benzinga 10/08/2020
'Tesla Stock Is the Next Amazon.com' -Barrons Article, Referencing New Street Research Commentary
The next 10 years belong to Tesla.
That's the conclusion of longtime Tesla bull Pierre Ferragu from New Street Research, who upgraded the stock to Buy from Neutral Wednesday night.
Ferragu called Tesla stock a Buy at $60 in 2018, but he downgraded the shares to Hold recently after Tesla stock blew past all analyst price targets.